Travel is in full swing! Caro Bambino is here to offer you tips and a checklist to make life easier when traveling with your young family. Traveling with babies and toddlers can be challenging, but we are here to bring you all the information to set you up for success!
Baby Carriers, aka the MVP of parenthood. Naturally, it is a must have during travel. Having your hands available during the hectic process of travel will have you breathing a sigh of relief. 
Solly Wrap In-Store Only
Why we love it: Made in the Los Angeles, CA, these incredible wraps are soft, light, and extremely portable to fold up and throw in your bag, the Solly Wrap is the perfect to travel with. These can be purchased only in-store at Caro Bambino in Santa Monica. Come check it out! 
Travel Crib / Playard
Being in a new space during travel can be a little unsettling for parents and babies. Hotel rooms, Airbnbs, and even grandma's house are not usually baby proofed which can make finding a safe space for Baby tricky. Enter the Travel Crib - Travel Crib's act as both a safe sleeping space and a safe play space for Baby. 
Why we love it: The Nuna Sena has it all. It can be a bassinet, mini playard, travel or bedside crib. Its modern look will blend with even the most stylish of homes. Get ready for a comfortable night's sleep with 360° air flow on all sides, floor and mattress. This easy fold will have you out the door in no time.
Why we love it: Perfectly lightweight and portable, the REMI sets up and folds down in seconds. A unique perforated design makes the mattress breathable, creating a comfy, healthy place to both rest and play. It also features a zip-down access panel to help you soothe baby or retrieve a pacifier gone rogue. 
Travel, Compact, Lightweight Stroller 
Compact and lightweight is always a good idea – especially when it comes to travel! Compact and lightweight strollers act beautifully as a travel companion. Most options on our list can even fit in the overhead bin of an airplane* which minimizes the risk of damage during transport.
*Airline is subject to change and can require checking your travel stroller if deemed necessary 
Nuna trvl  (Compatible with Nuna Pipa )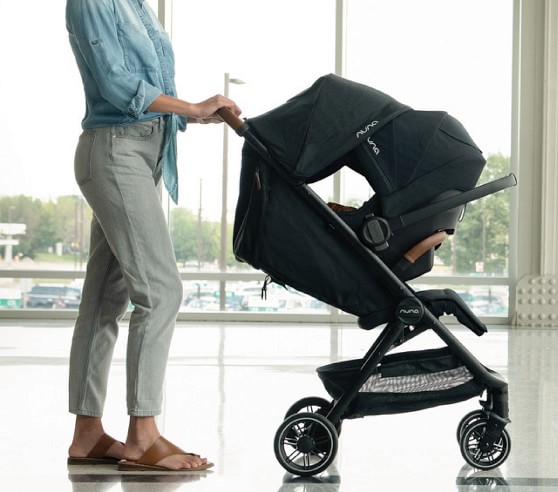 Why we love it: Only 13.6,* the Nuna Trvl is a wonderful lightweight stroller that is loaded with features. If you have a Nuna Pipa series car seat, it will connect with no adapter necessary making travel very easy. Features include UV 50+ canopy, multi recline positions and adjustable calf support for comfort.
*Weight does not include canopy or arm bar
UPPAbaby MINU V2 (Compatible with MESA, Cybex, Nuna Car Seat)
Why we love it: At 16.9lbs, the UPPAbaby MINU V2 is a heavier option on the travel stroller front, but don't let that deter you. The features and options are endless. The MINU has the biggest sunshade coverage for sunny summer days! This stroller can take infant car seats and the full sized VISTA Bassinet. With a larger fold, the stroller can fit into the overhead bin on larger commercial jets*, but with the UPPAbaby travel bag, you can check the stroller worry free. 
*Airline is subject to change and can require checking your travel stroller if deemed necessary 
Cybex Libelle  (Compatible with Cybex, Nuna or Maxi Cosi Adapters)
Why we love it: Only 13.7lbs, this stroller is ultra light and compact. Folded, this stroller is small enough to stow in the overhead compartment, under train seats or in the trunk of your car! Using an adapter, the Libelle offers the feature of being able to attach an infant car seat. It is compatible with Nuna, Cybex, Maxi Cosi and select other infant seats. 
Babyzen Yoyo2 (Compatible with Nuna, Maxi Cosi or Cybex Adapters
Why we love it: The most popular travel stroller, Babyzen Yoyo, was made for easy living in a big city. Only 13.6lbs. It is fully compliant with the IATA guidelines for cabin storage. This stroller is well known for fitting in the overhead bin by airline employees*. You can use it with the seat for a toddler, but it also offers the ability to use your infant car seat (Nuna, Maxi Cosi, Cybex and select others) making travel easier than ever. 
*Airline is subject to change and can require checking your travel stroller if deemed necessary 
Let's be real. Airline Damage can happen and most of the time, airlines and standard warranties will not cover it. If you are traveling this summer (or anytime really), it is incredibly important to make sure your items are protected and/or covered in case of damage. Enter the travel bags! 
Why we love it: UPPAbaby is well known for their incredible customer service and warranty programs. Their standard warranty does not cover airline damage however their TravelSafe Program will extend your warranty to cover your stroller for any airline damage you encounter within the warranty of the stroller by purchasing and registering an UPPAbaby Travel bag. You can learn more about TravelSafe Here. 
Why we love it: When you purchase the Nuna travel bag, it includes the Nuna Boarding Pass which includes an extended 1-year warranty that covers the Nuna product you have packed inside, as well as the travel bag itself. Giving you peace of mind on every journey so you can worry less and enjoy more adventures. We currently stock the Nuna Pipa Travel Bag and the Wheeled Travel Bag that can fit your Convertible Car Seat or Stroller. You can learn more about Nuna Boarding Pass here. 
Car Seats for Easy Travel
All infant seats provided in this list offer the ability to install your seat baseless with the vehicle seatbelt. If you are traveling, bringing the base can be a hassle. Installing the seat baseless is a great option when traveling in rental cars, ride shares and taxis. 
Nuna Pipa and Nuna Pipa RX
Why we love it: The Nuna Pipa is one of the most popular car seats. It offers so many incredible features such as the Sky Drape to fully shade baby in with mesh breathable panels and adaptability for so many different strollers. Weighing only 8lbs,* Nuna Pipa is a light infant seat that is a wonderful option for travel. 
*Weight does not include canopy and insert
Why we love it: Previously all Nuna Pipa Lite car seats did not have the option to be installed baseless until now! The Nuna Pipa Lite RX is only 6.9lbs* and adapts onto almost every travel stroller in our line up. For ease of use, the Nuna Pipa Lite RX includes a non rethread harness for easy adjustments as Baby grows. Just like the standard Pipa, the Lite RX features the Sky drape, Baby can enjoy full sun coverage and privacy. 
*Weight does not include canopy and insert
Why we love it: With the MESA V2 car seat, you don't need an adapter when snapping it into your UPPAbaby VISTA or CRUZ stroller making travel and on the go easy as can be. The MESA weighs under 10lbs and also fits onto the UPPAbaby MINU travel stroller using easy folding adapters allowing you to install once and then be on the go. 
Why we love it: The Nuna Rava is the next step convertible car seat good for babies, all the way up to 6 years old. With its comfortable padding, roadtrips are comfortable and a breeze! While it is a heavier seat, the ease of seat belt installation utilizing a tension door makes moving the seat from vehicle to vehicle easy as 1, 2, 3. You can view the Nuna Rava Demonstration Installation here. 
Why we love it: The Nuna Aace is the next step from the convertible car seat. To keep the older children 40lbs and up, safely restrained in your vehicle, we recommend using a Booster seat. The Nuna Aace is lightweight and portable at 15lbs. Starting at 50lbs and up, your child can utilize the seat without the back making it even easier to carry for travel. 
Feeding
Inglesina Fast Table High Chair
Why we love it: The Inglesina fast table high chair is a popular space saver option for in-home, but did you know it comes with a travel bag attached to the seat? It's incredibly easy to remove and secure so that it can be used during travel. Tons of parents have enjoyed using this out and about in restaurants instead of the generic high chairs offered. The seat is far more secure and is great for smaller babies who can Houdini their way out of the standard high chairs. 
Why we love it: There is nothing more terrifying than a young baby or toddler using a restaurants breakable plates and bowls. The EZPZ Mini Happy Mat suctions to the table! The mat's stable base reduces tipped bowls / plates and helps infants and toddlers learn to self-feed. 
Toys and books are absolutely essential when traveling to help keep Baby entertained. From car travel, to airline travel or even just waiting at a restaurant, having something to keep Baby busy will help everyone involved. Check them out here
Have a question? Contact us directly by email at info@carobambino.com or call us at 310-399-7971